News & Upcoming
Celtic Yuletide on Tibb's Eve!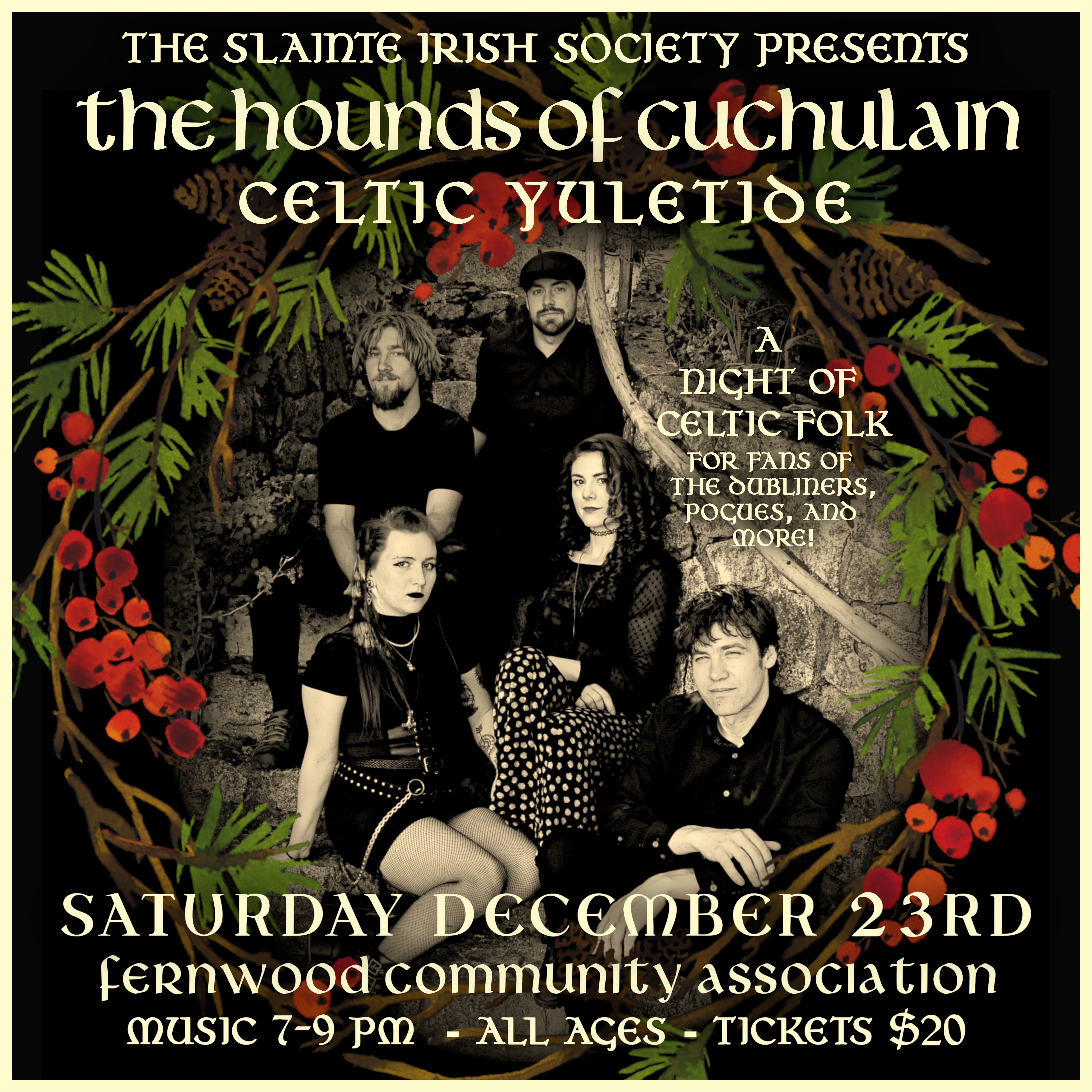 SATURDAY DECEMBER 23rd
The Fernwood Community Association
Doors at 6pm, music 7-9pm, carousing till late!
All Ages, Tickets $20
Join the Hounds of Cuchulain for a festive Yuletide celebration on December 23rd - known as Tibb's (or Tipsey!) Eve in Newfoundland! Featuring Irish dancers, Celtic holiday staples such as the Fairytale of New York, and festive seasonal beverages.
Space is limited so book early!
TICKETS
Hounds live on radio! CFUV Basement Closet Session - Friday December 1st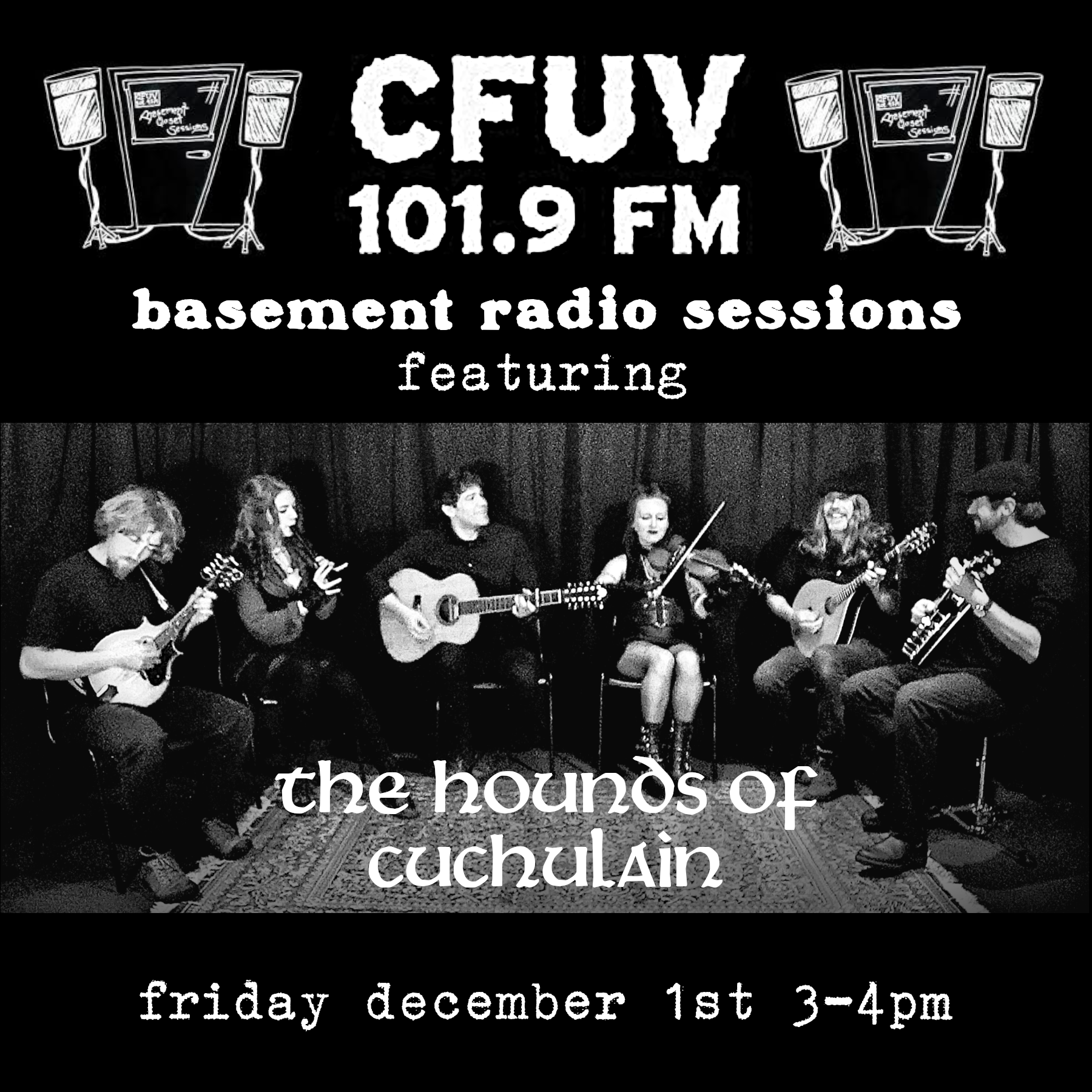 The Hounds live on radio! We will be performing an hour of celtic favourites in honour of Shane MacGowan's passing. Tune in at 101.9FM from 3-4pm, listen online on the
CFUV website
, or watch the livestream of our performance on
youtube!
Here's the Grog - new album release!

Our new album is here at last! Full of high energy pub and sea songs, with a sprinkling of original songs by our own leading man, Wolf Edwards. Catch us at any of our upcoming shows to grab your copy, or listen on bandcamp!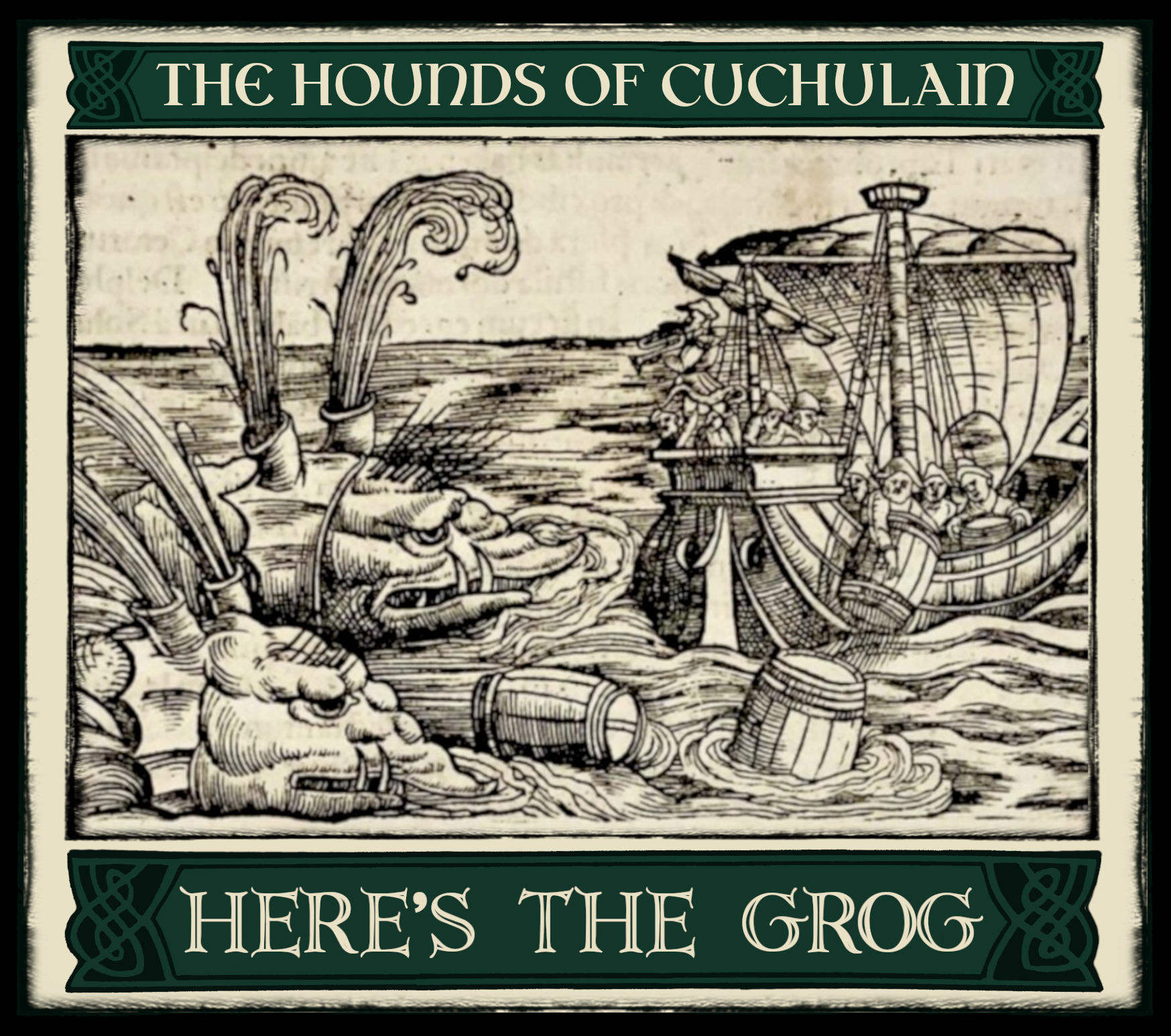 Up-island August!

This August we're travelling from Qualicum to Quadra, Port McNeil to Port Alberni, and everywhere in between! Kicking off our rambles is a show at the rowdy Rainbow Room in Port Alberni - hope to see you there!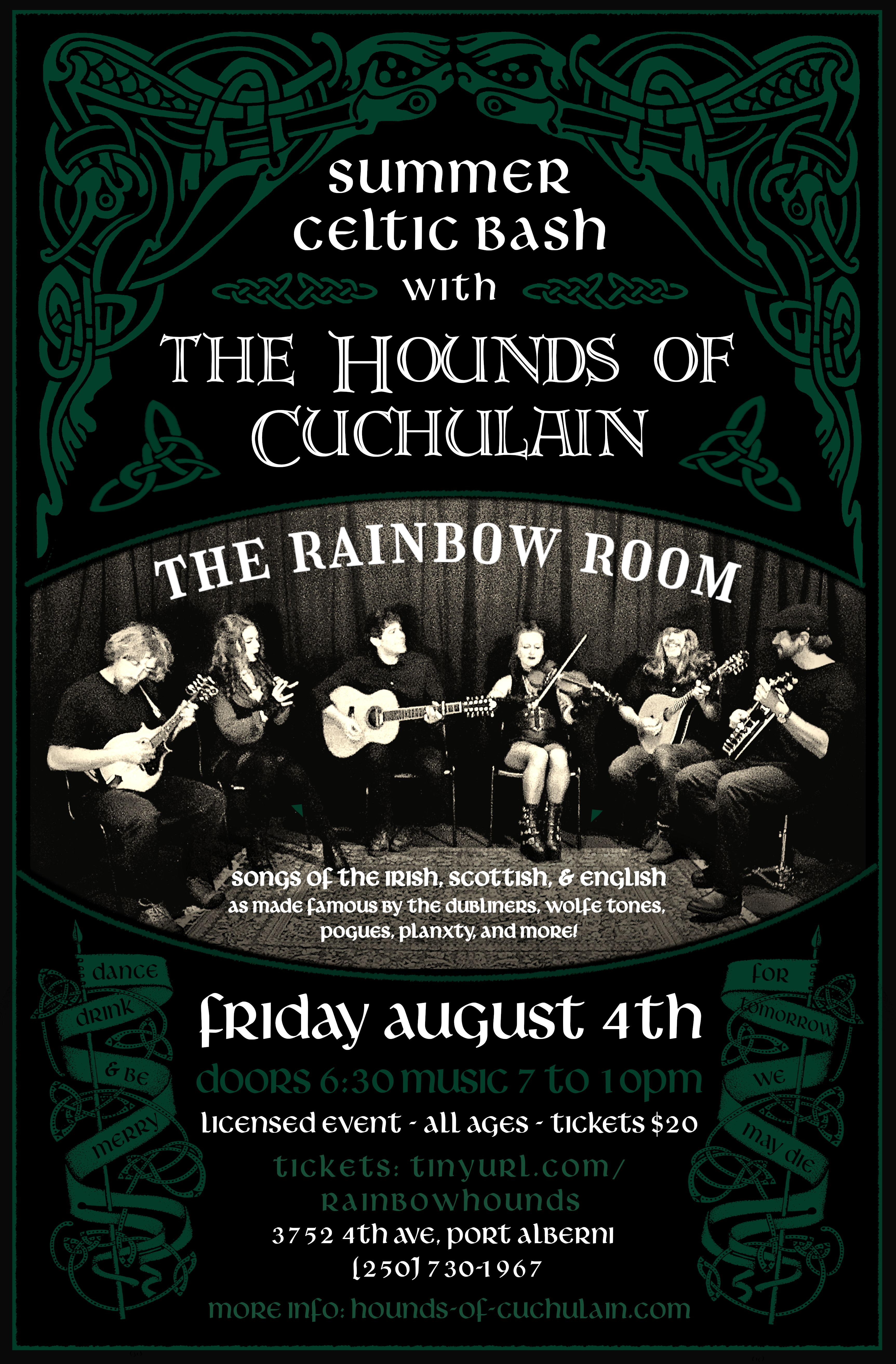 TICKETS
Hounds at the 2023 Islands Folk Festival!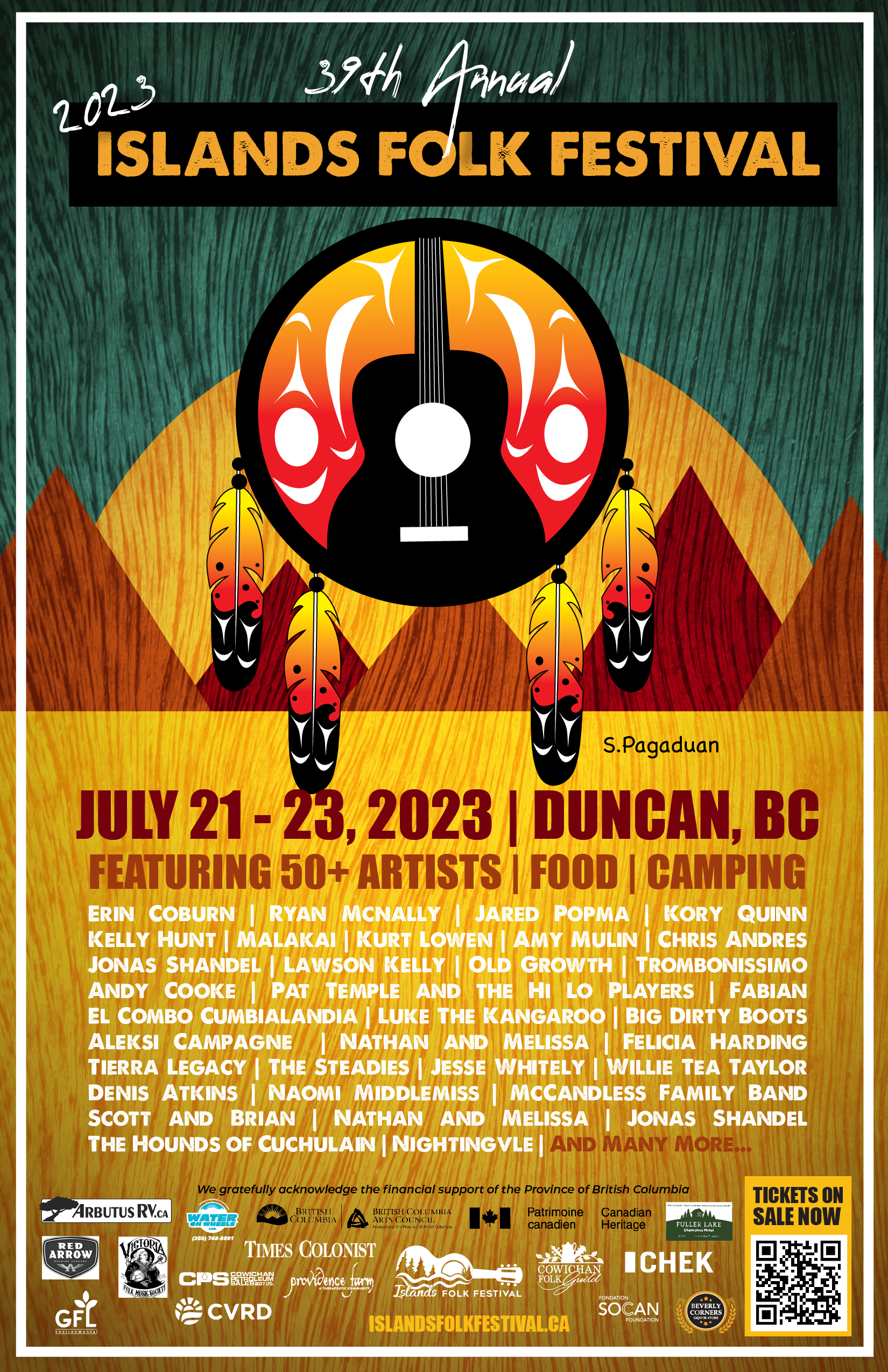 MORE INFO
Oaks Show Time Change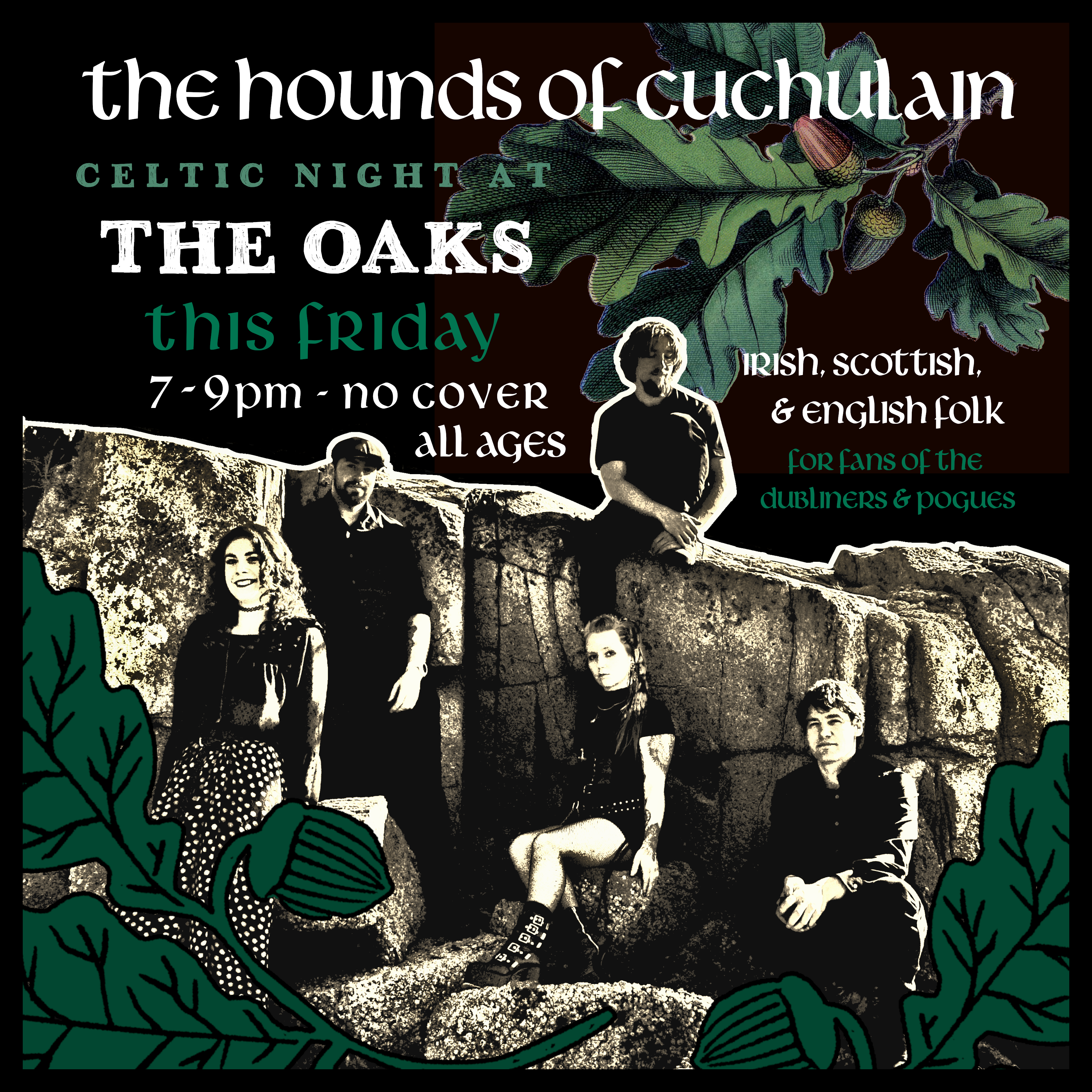 A heads up to the folks who come to the Oaks - Friday music nights are now later and greater: 7-9pm instead of 6-8pm.
See you all there!
BUS IN TROUBLE!

The trusty band bus, Snowflake, is in need of urgent repairs! In order to keep on the road and make all of our summer tours, we need $6000 in brake and suspension work. That's a hefty price for a working band, so we're reaching out to our community for help! Any donation truly helps, and no amount is too small. If you are able, please visit our GoFundMe to help keep the Hounds on the road!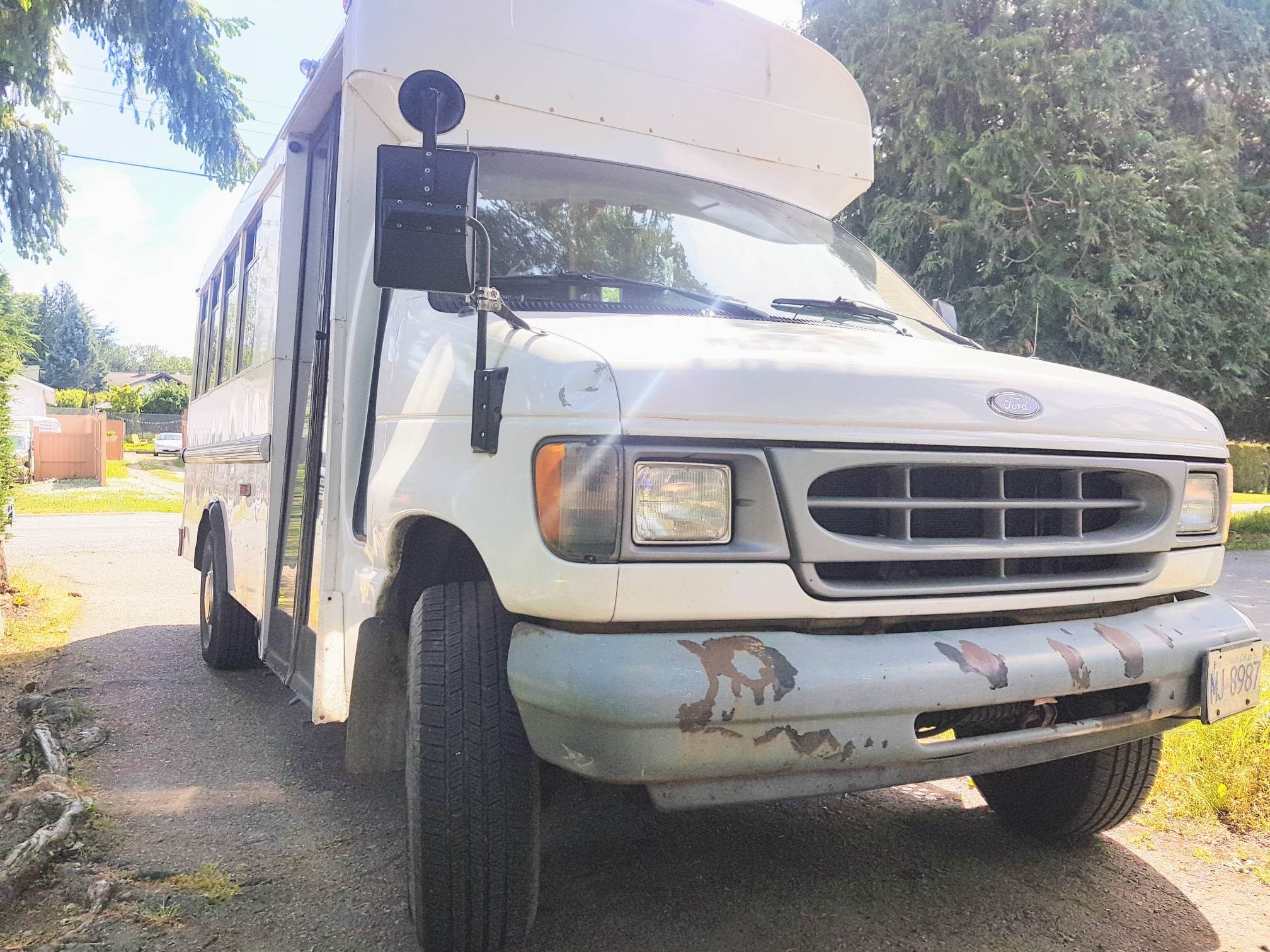 We greatly appreciate your support - thank you for helping keep the music alive!
DONATE
TICKETS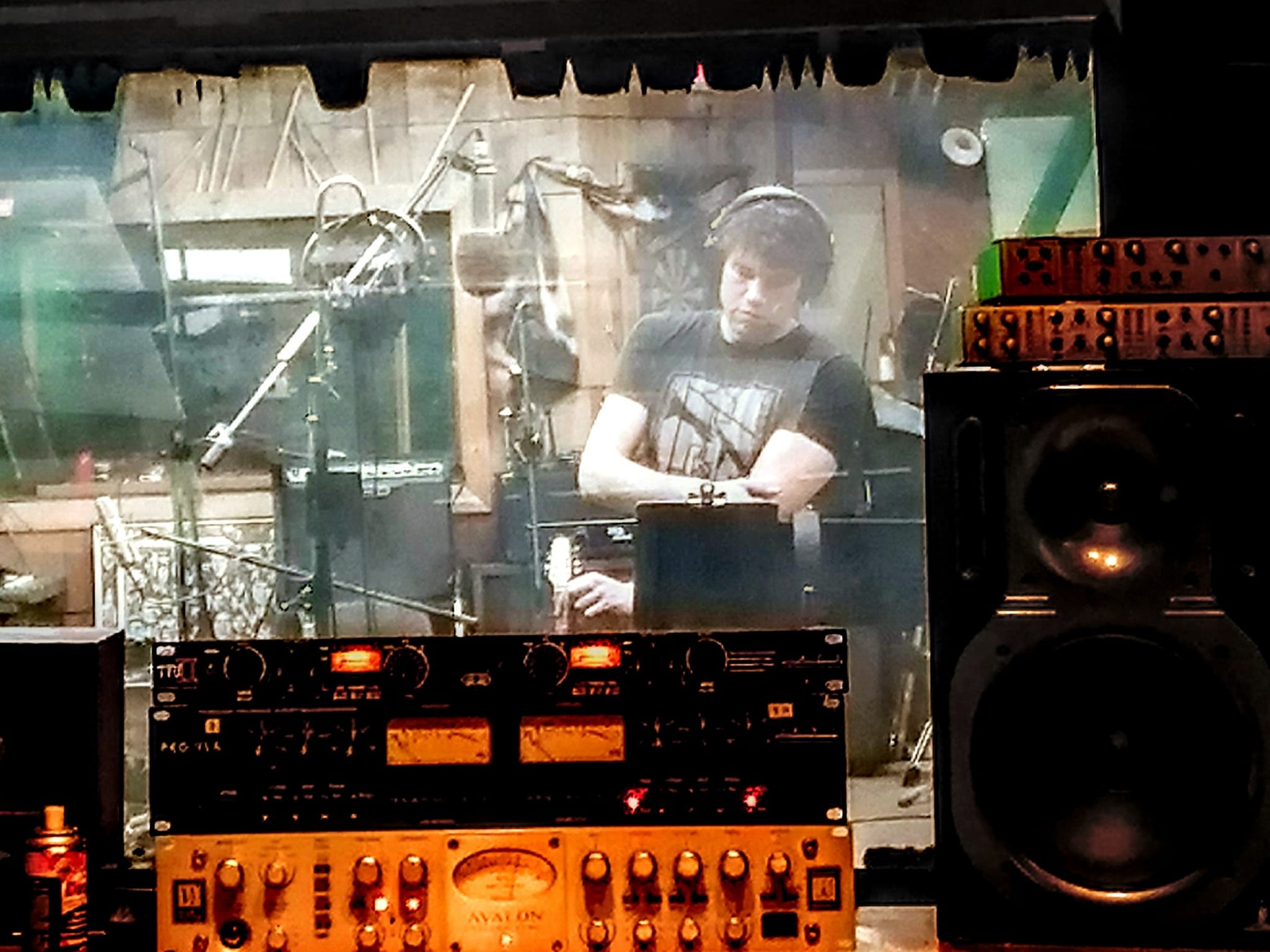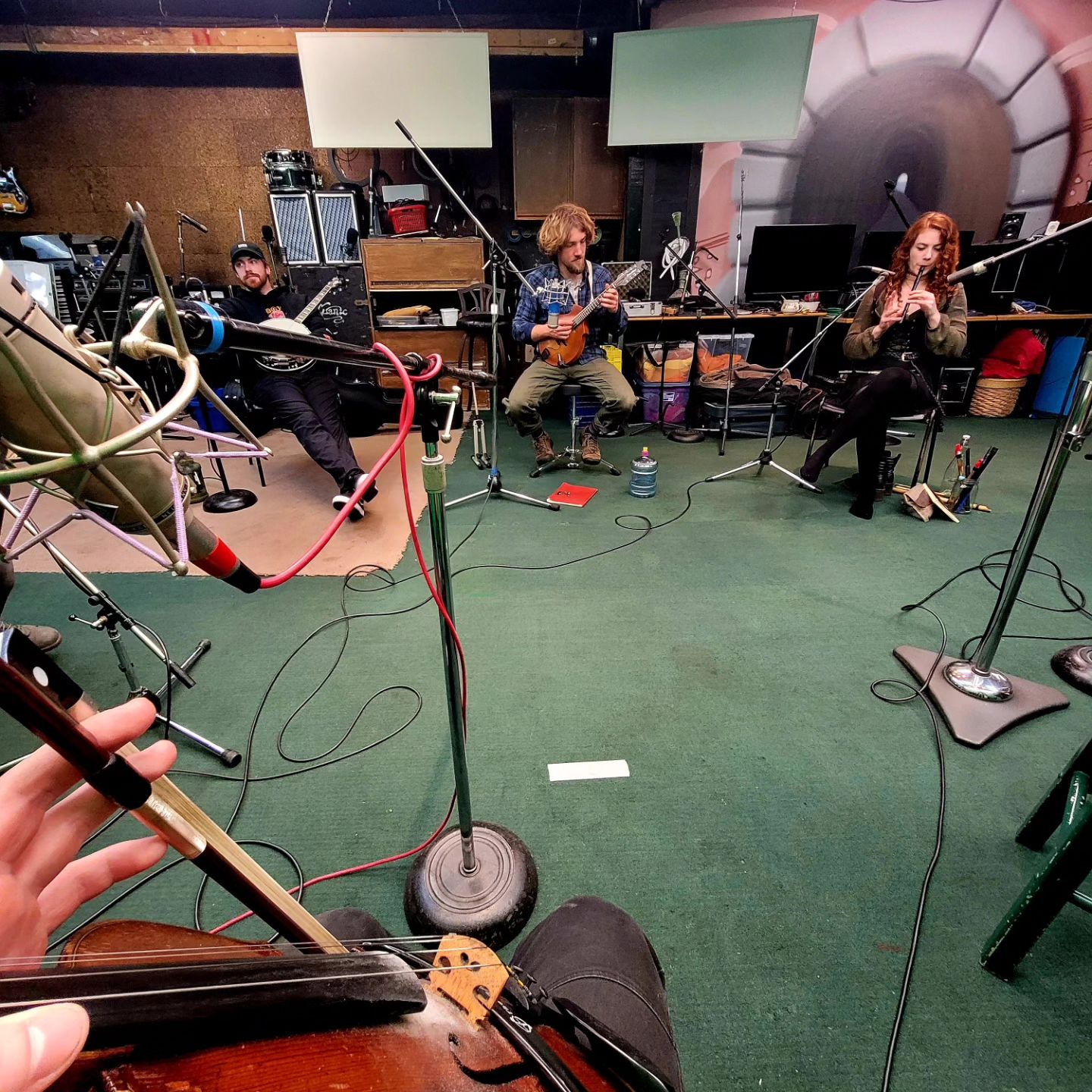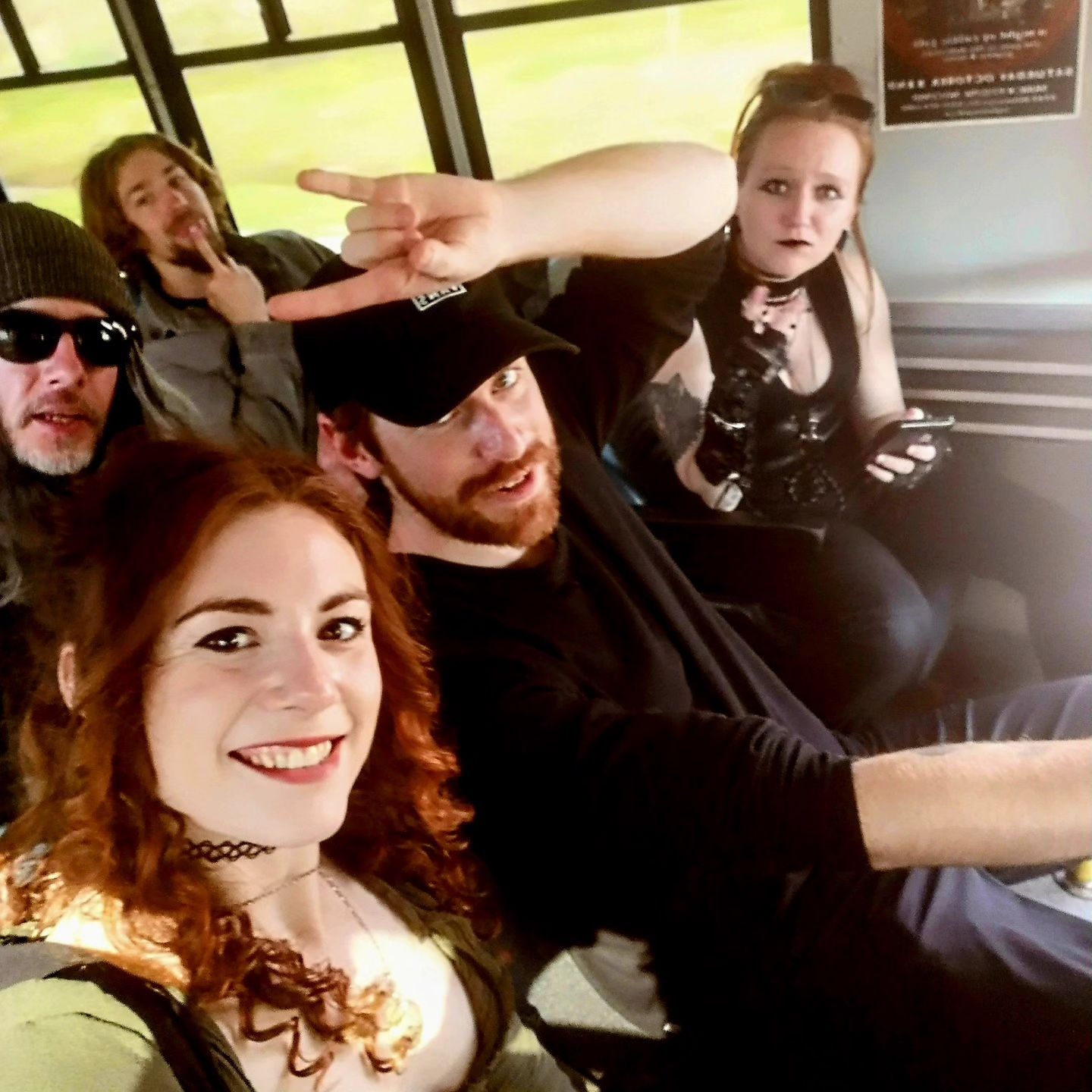 NEW ALBUM ON THE WAY
Recorded at Fiasco Bros in Vancouver in April - full of all our best rollicking pub songs, and featuring original songs by our leading man, Wolf Edwards.
Stay tuned for the release, coming late June!
Lineup Changes
After an action packed march, we are saddened to say farewell to our intrepid banjo man, Devo. Though he assures us he won't be too far away! Stepping in to fill the gap are old friend Dexter Simpson on Irish tenor banjo and Ben Garrison on mandolin (when he's not wandering barefoot into the woods!)
Say hello to the new Hounds!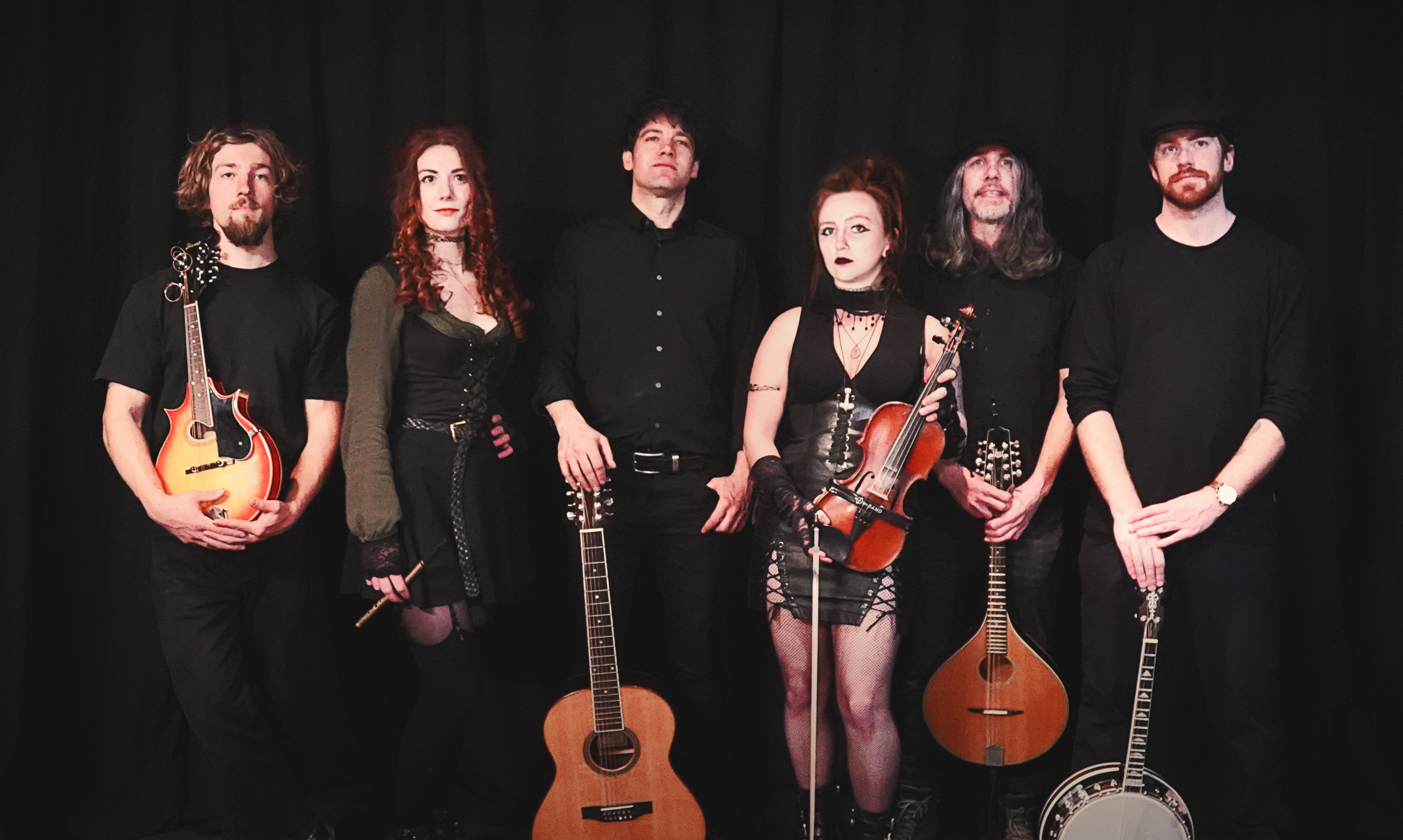 MERCH UPDATE: New Shirt Design!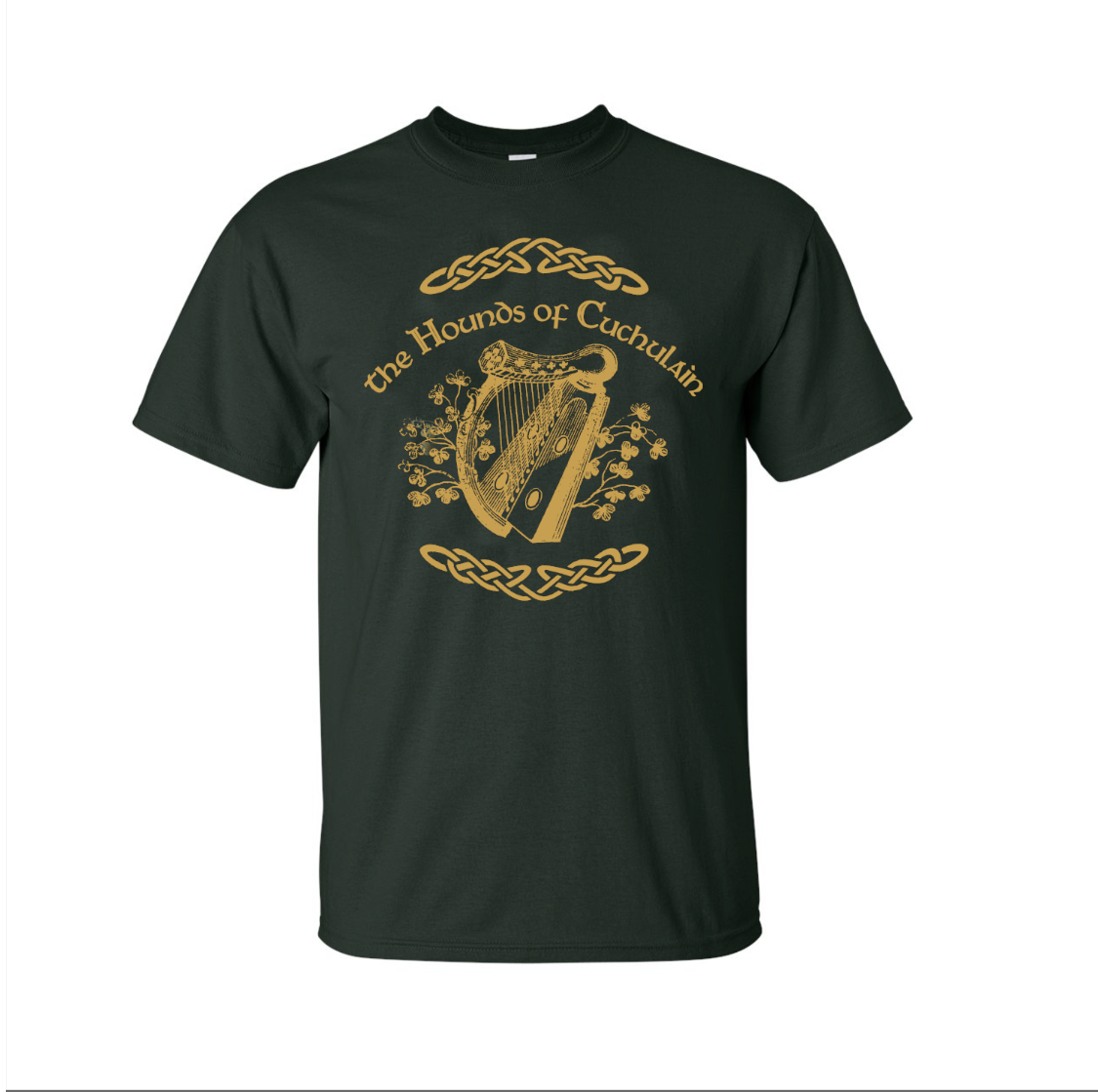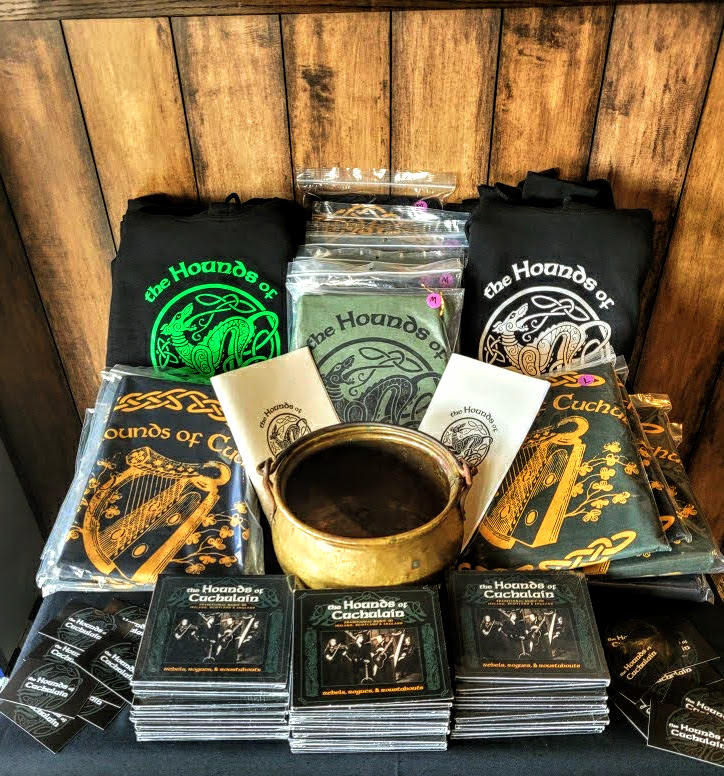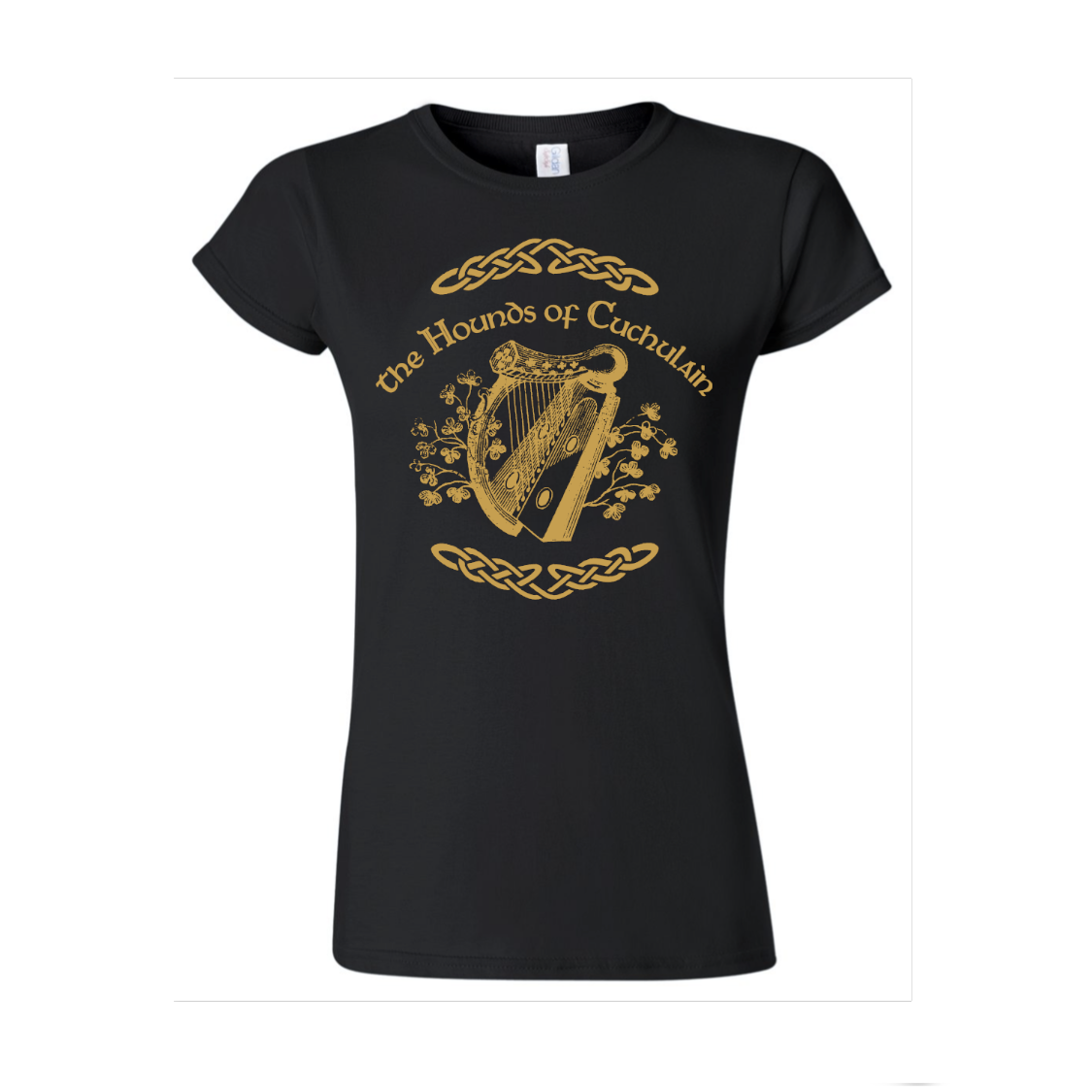 New shirt design inspired by the old Irish flag! Gold on forest green or black.
SHOP
LYRIC BOOKS!
The lyrics to all our songs, as of March 2023, in large print!
Purchase at our shows, online, or download the PDF: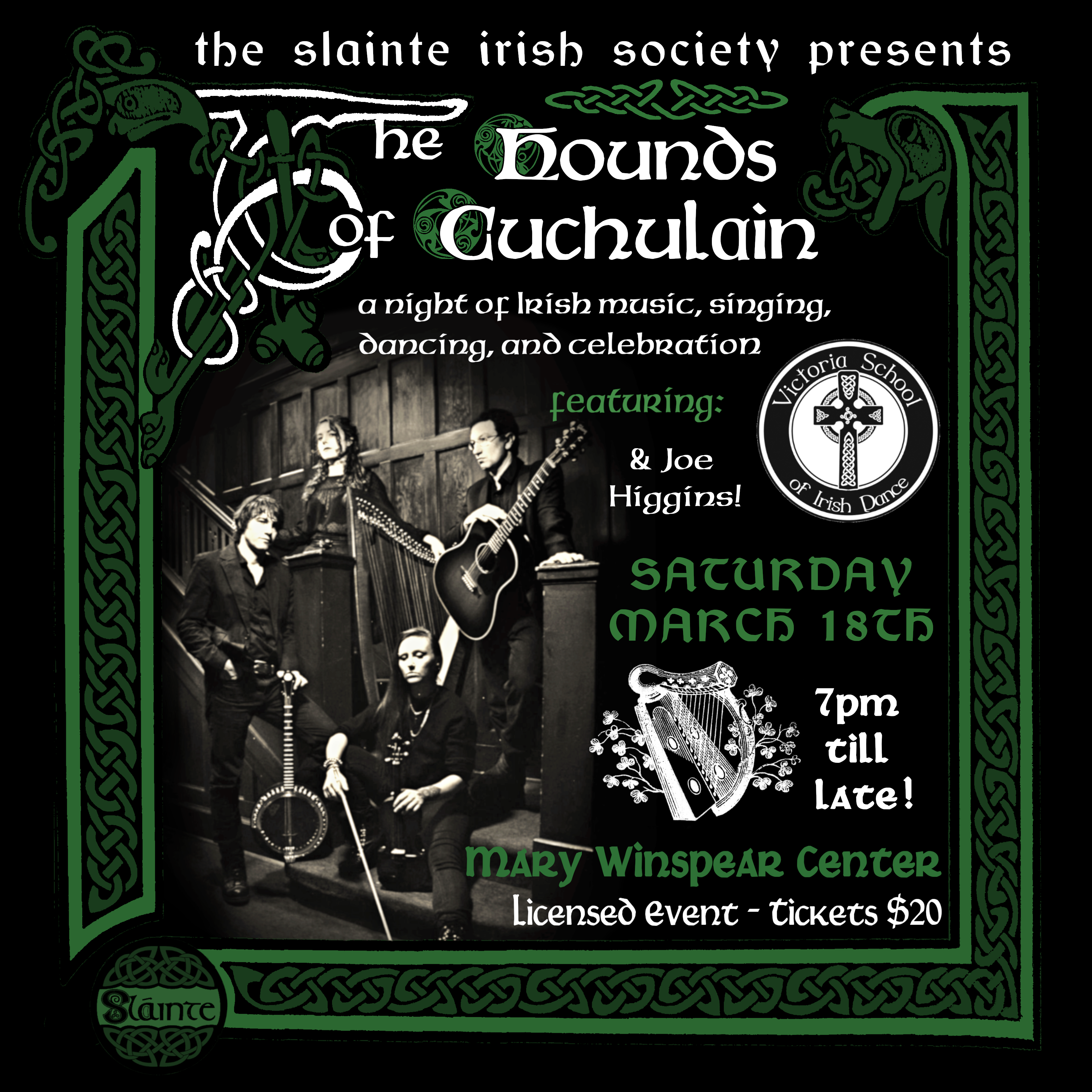 SATURDAY MARCH 18TH
The Mary Winspear Center
Music 7pm till late, Licensed Event
Featuring performances by the Victoria School of Irish Dance, and our favourite Scottish balladeer, Joe Higgins!
All Ages, Tickets $20
TICKETS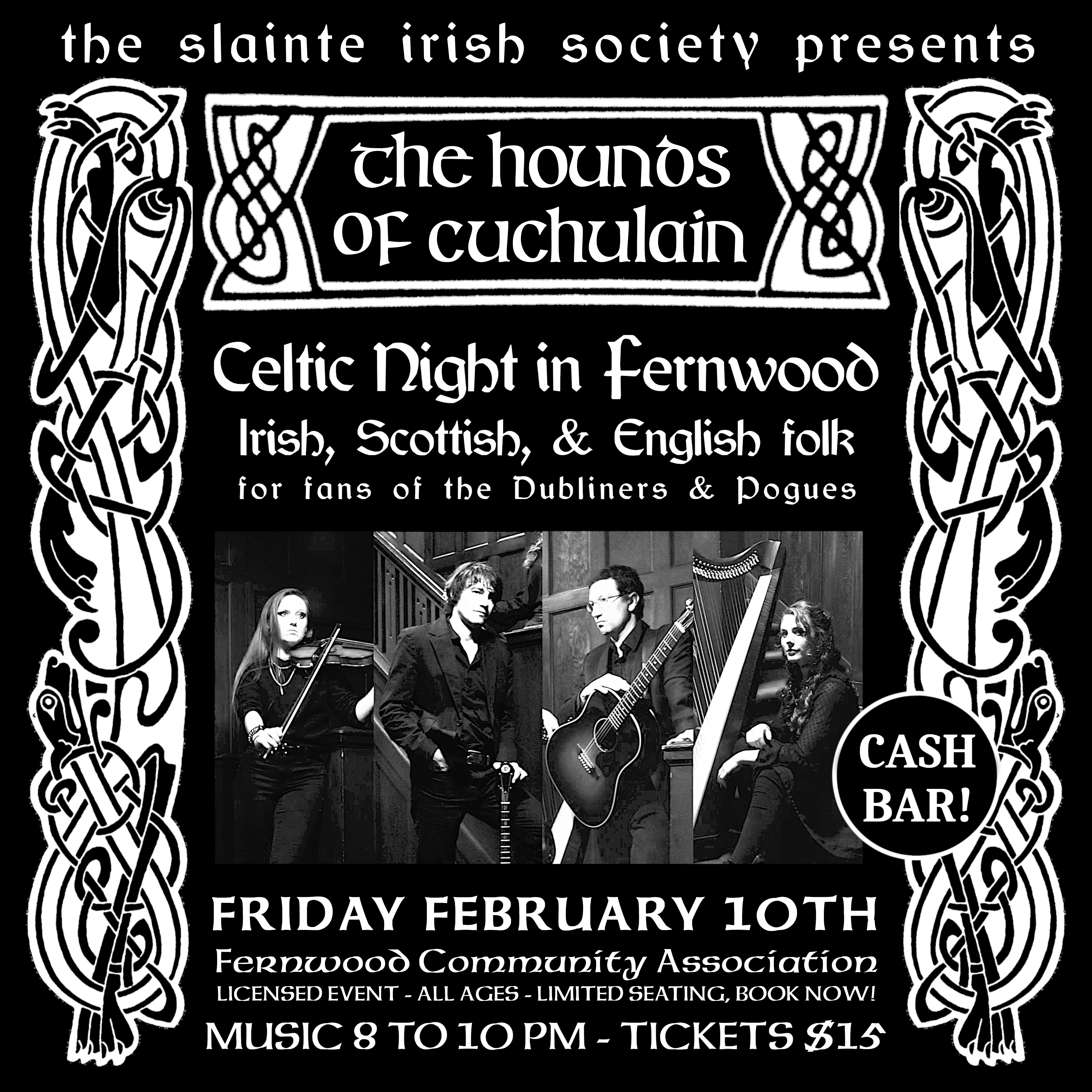 FRIDAY FEBRUARY 10th
The Fernwood Community Association
Music 8-10pm, Licensed Event
All Ages, Tickets $15
SOLD OUT
TICKETS
Our online store is live!
Browse our merch page for T-shirts, hoodies, and CDs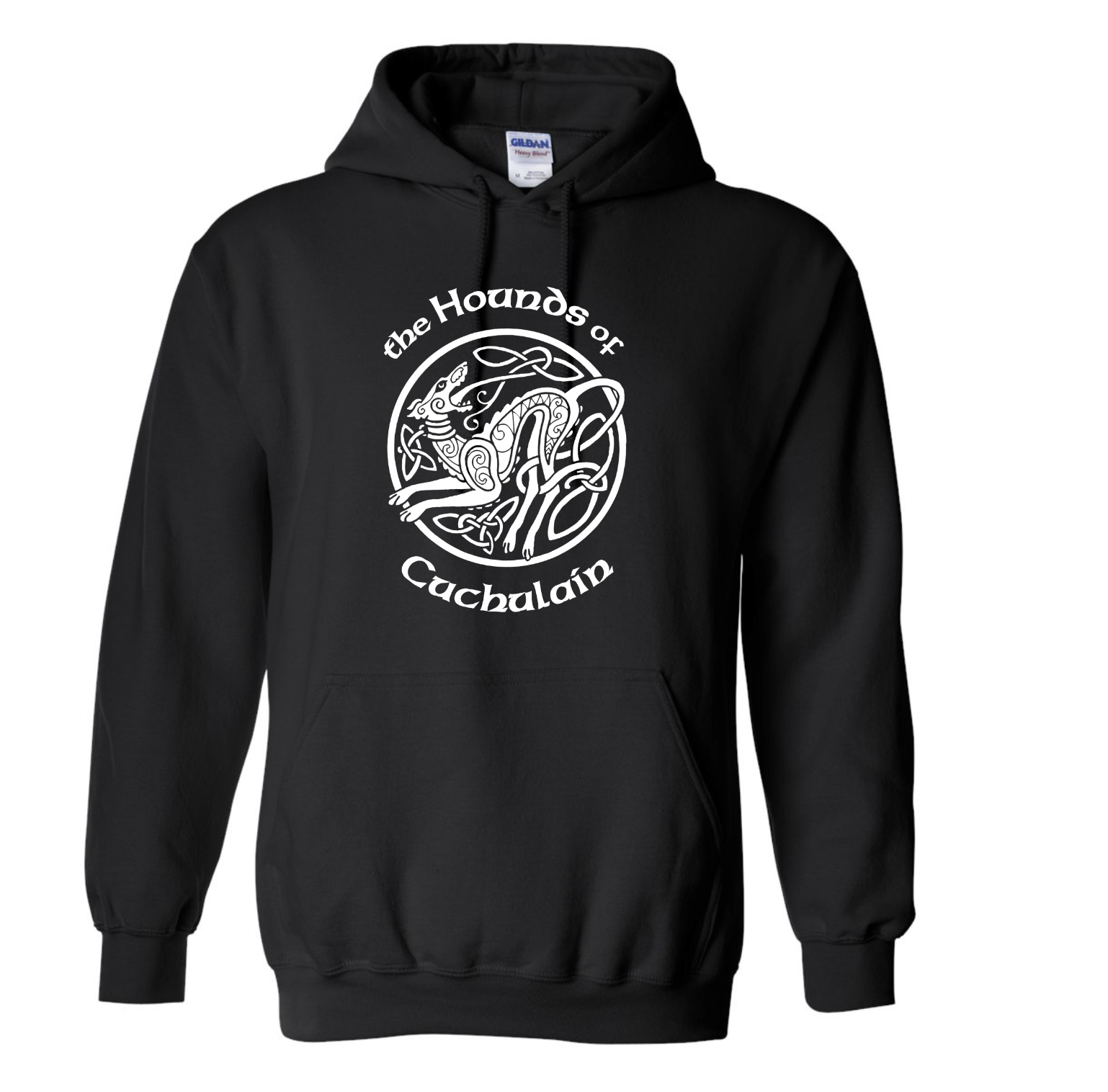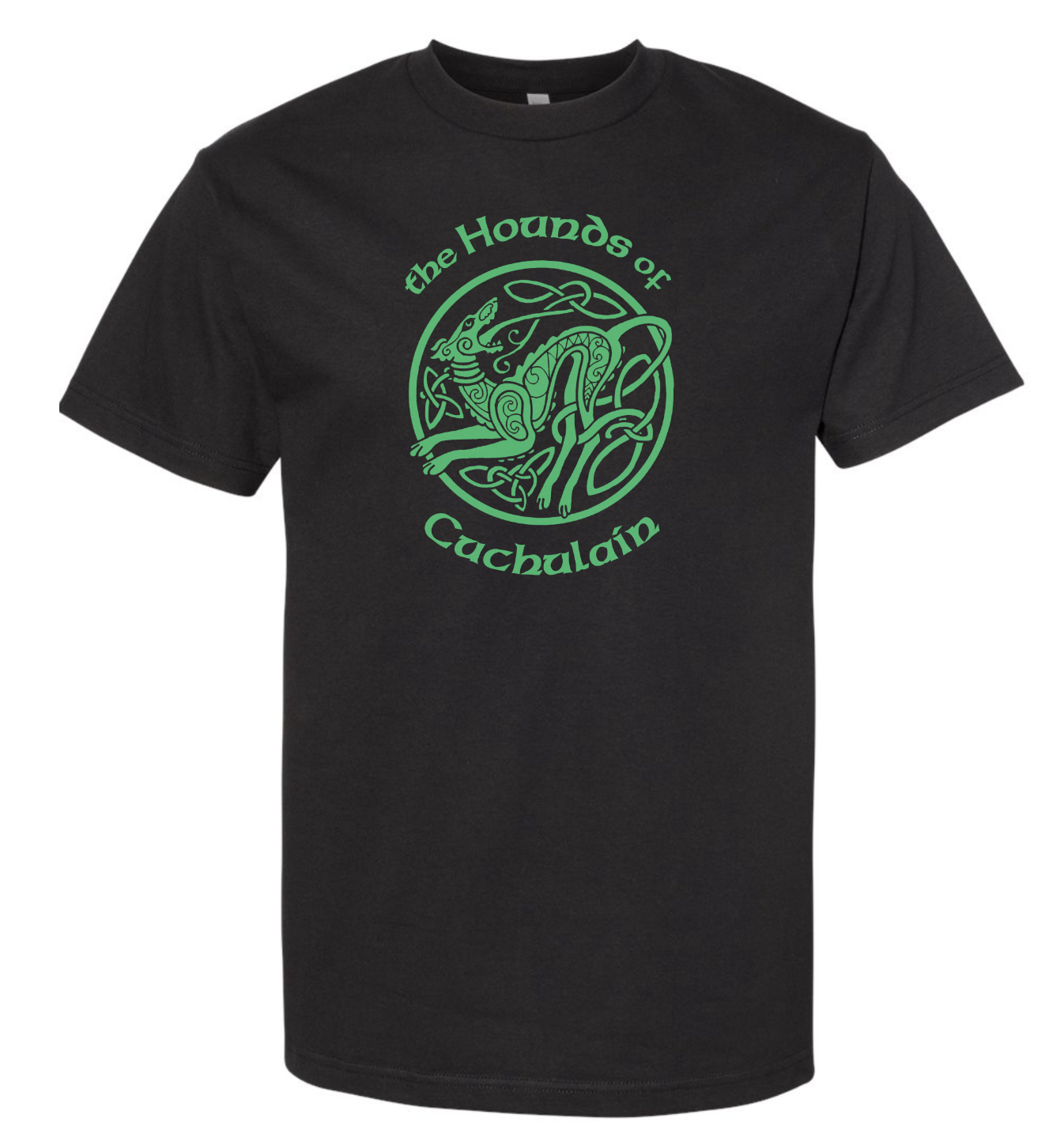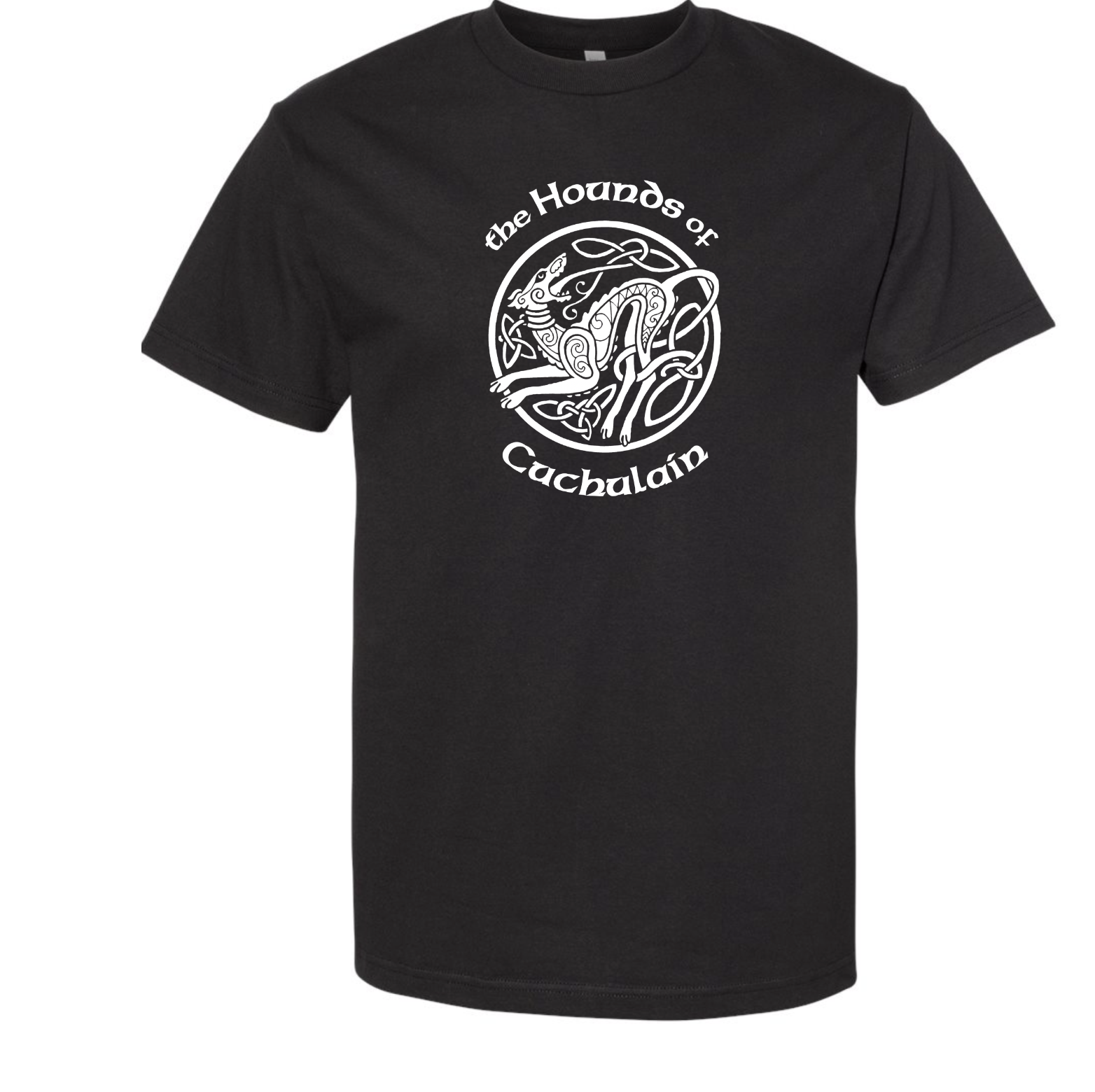 SHOP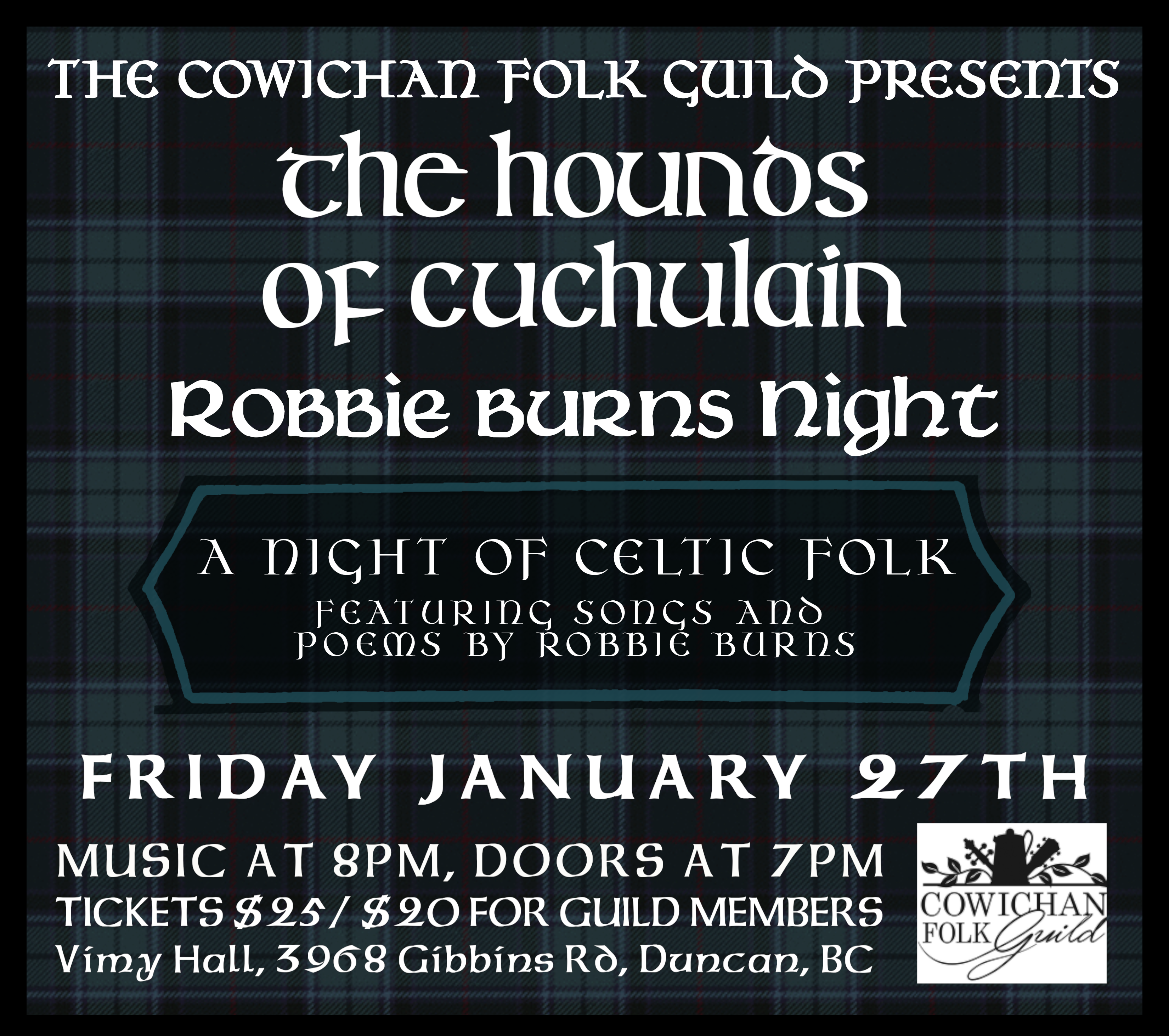 TICKETS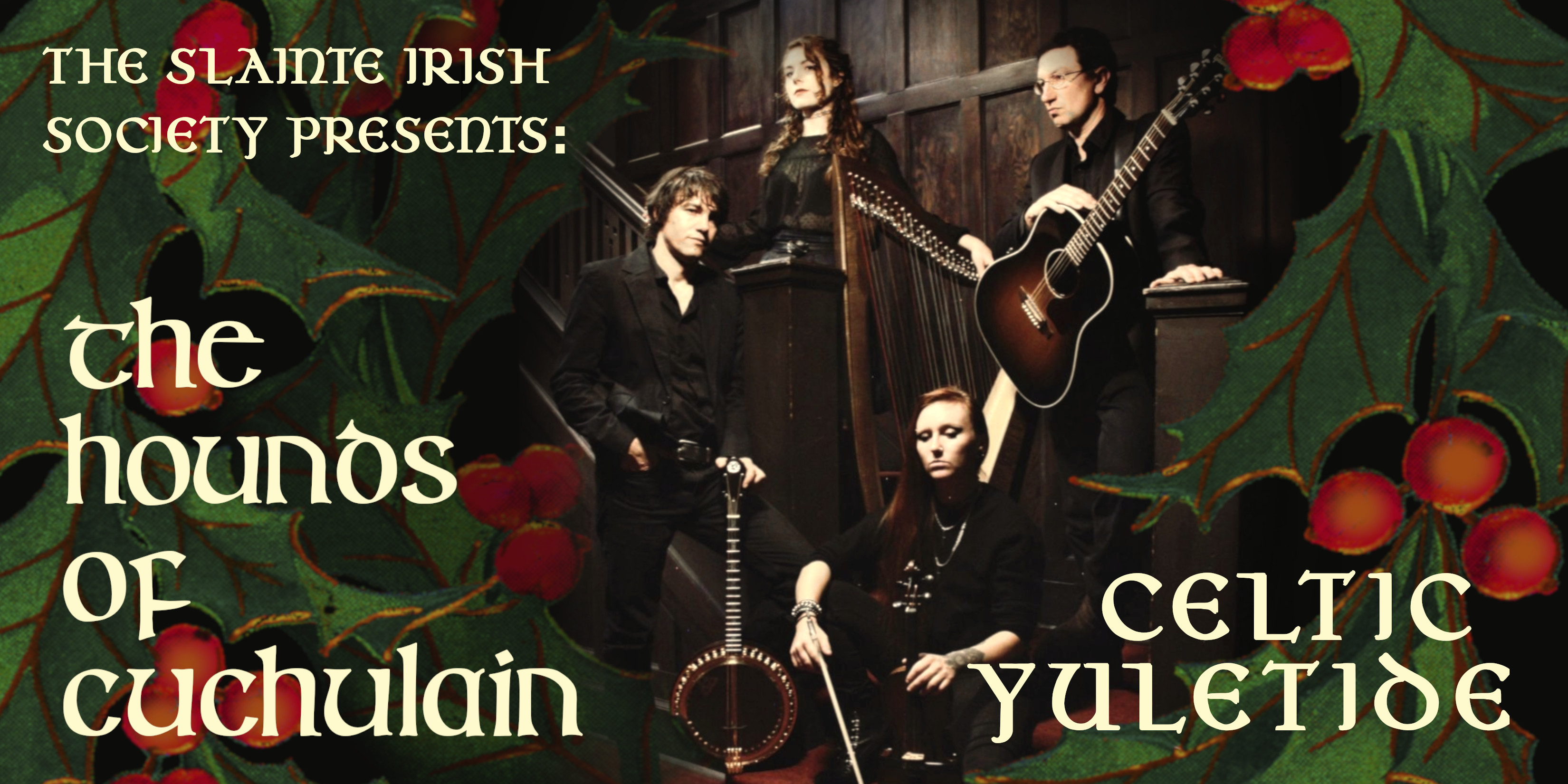 FRIDAY DECEMBER 23rd
The Fernwood Community Association
Music 7-10pm, All Ages, Tickets $15
Join the Hounds for a Celtic Yuletide celebration with Irish, Scottish, and English folk songs, dancing, and traditioal Yuletide treats!
SOLD OUT
TICKETS
Our first album: "Rebels, Rogues, & Roustabouts" is here!
Listen on bandcamp
or purchase at our shows for $10
T-shirts have arrived!
Hound logo in white or green on black, regular and fitted, S-XXXL $20
UPDATE: all sizes back in